Journal appeared in Etymon Website July 2022
In the words of Gianfranco Soldera, 'A great wine gives us satisfaction, a sense of wellbeing and makes us want to drink it again: it creates and develops sociability between friends. It is unique, rare, typical and long-lived.'
We spoke to Paolo Saccone, Etymon Director of Wine, about Chablis, one of the most popular wine regions right now, and the producer of many excellent wines.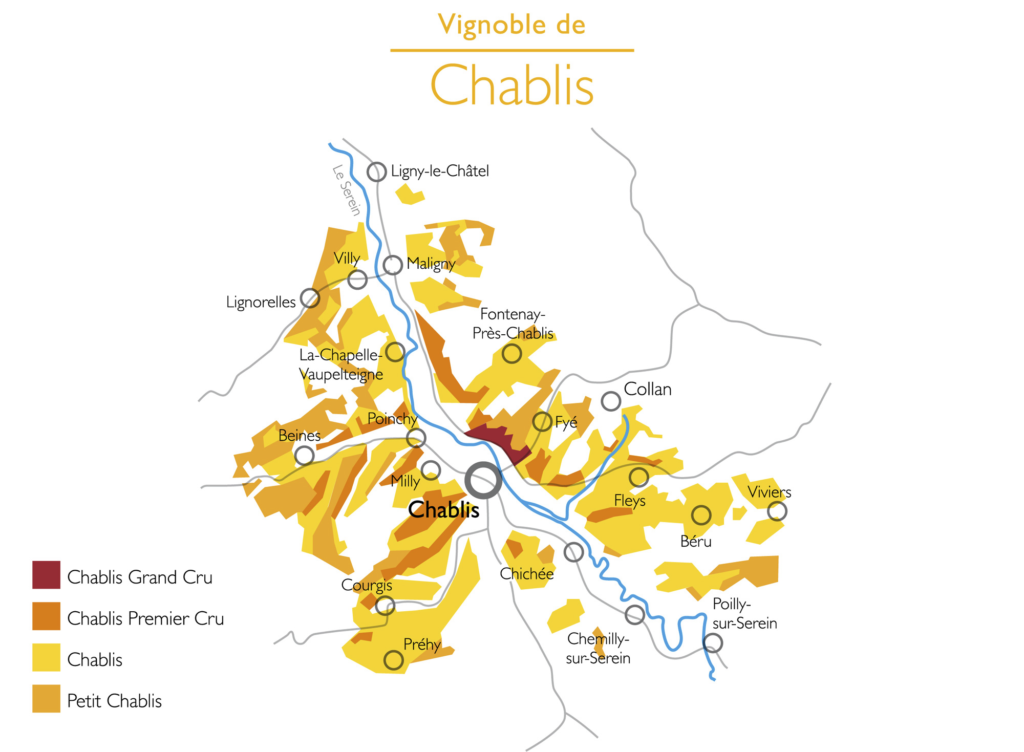 Where is the region of Chablis?
The wine region of Chablis is situated in the north of Burgundy, known for its cool climate, Kimmeridgian clay-limestone soil and a reputation for producing the finest wines.
Are all Chablis the same?

You will find there are 4 different grades of Chablis, classified as Chablis Grand Cru, Chablis Premier Cru, Chablis and Petit Chablis.
Chablis Grand Cru is the most prestigious of the 4 grades of Chablis and represents 2% of the total Chablis area. There are only 7 climats (officially designated vineyard plots) that label their wines as Grand Cru, and they all enjoy a southwest exposure over the village of Chablis and the Serein River. This exceptional terroir is bathed in sunshine from noon to evening, combined with a relatively steep slope which provides ideal ripening conditions.
Some of the top Grand Crus include Les Clos (the largest) and Vaudésir, considered to have the most vibrant complexity, dense with a plethora of aromas and a lingering finish.
Other Grand Grus include Bougros from the steepest sector of the region, Preuses which displays the Chablis style at its purest. Blanchot has an evanescent minerality which makes is a great wine for Chablis enthusiasts. Grenouilles is the smallest climat in size but is big on character, and Valmur is often described as the finest Chablis of all, due to its perfect balance and aging potential.
The next tier is Chablis Premier Cru, of which there are officially 40 climats in the Chablis area. They vary considerably in exposure and gradient but get more sun than Chablis and Petit Chablis, thus producing fuller, fruitier wines. Some of the top Chablis Premier Cru vineyards are Montee de Tonnerre, Fourchaume and sun-drenched Mont de Mileau.
The third tier of Chablis is known simply as Chablis. It is the most common type as it is produced in the majority of vineyards in the area. It has greater depth and flavour compared to Petit Chablis.
'Little' Chablis or Petit Chablis is a younger, lighter and less complex wine for easy drinking. It was created in 1944 to account for the newer vines being planted on top of the hills.
Eric Szablowski from the Chablis Commission of the Bourgogne Wine Board says "the difference between Grand Cru and Premier Cru is the place. The difference between Chablis and Petit Chablis is the quality of the soil and how much sun the vines get."
How would you describe Chablis?
Chablis has aromas of tart tree fruits, citrus and floral notes with very high minerality including notes of flint, burnt matched and oyster shell, which is great representation of the soil. On the palate, Chablis appears with pronounced acidity, moderate body and gentle warmth. Chablis is popular due to being very well-balanced wines with moderate length and great harmony.
What food should I pair Chablis with?
The best food pairings take advantage of the wine's naturally high acidity to act as a palate cleanser and works well with delicate creamy sauce, goes perfectly with oysters, as well as grilled fish and lighter meats such as chicken.
Enjoy exploring the wines of Chablis and seeing which is your favourite.
Sante!